Surroundings of Rome: the Garden of Ninfa in Cisterna di Latina
A few kilometers from the hustle and bustle of Rome, there is an oasis of peace and beauty: the Garden of Ninfa in Cisterna di Latina. This garden, once a medieval ruin, has been transformed into an earthly paradise thanks to the passion and dedication of generations of the Caetani family. Today, the Garden of Ninfa is a magical place, a cross between history, nature and art, waiting to be discovered.

The History of the Garden
The history of the Garden of Ninfa begins in the seventeenth century, when the Caetani family decided to transform the ruins of Ninfa into an Anglo-Saxon garden. Ada Bootle Wilbraham, wife of Honorary Caetani, along with her children, began clearing the marshes, planting trees and roses, and restoring the ruins. The result is a garden that combines the ancient history of the place with the beauty of nature.
The Garden of Nymph is characterized by a free and spontaneous approach to gardening. There is no established geometry, but rather a natural flow that drives plant growth. This approach was particularly influenced by Lelia Caetani, the last heir of the family, who tended the garden like a large painting, being herself a painter.
In the 1930s, Marguerite Chapin, wife of Roffredo Caetani, opened the garden to the circle of writers and artists linked to the literary magazines she founded. This made the Ninfa Garden a meeting place and inspiration for many intellectuals of the time.
In 1972, Donna Lelia Caetani established the Roffredo Caetani Foundation with the aim of preserving the memory of the House of Caetani and maintaining the beauty and integrity of the Garden of Ninfa and the castle of Sermoneta.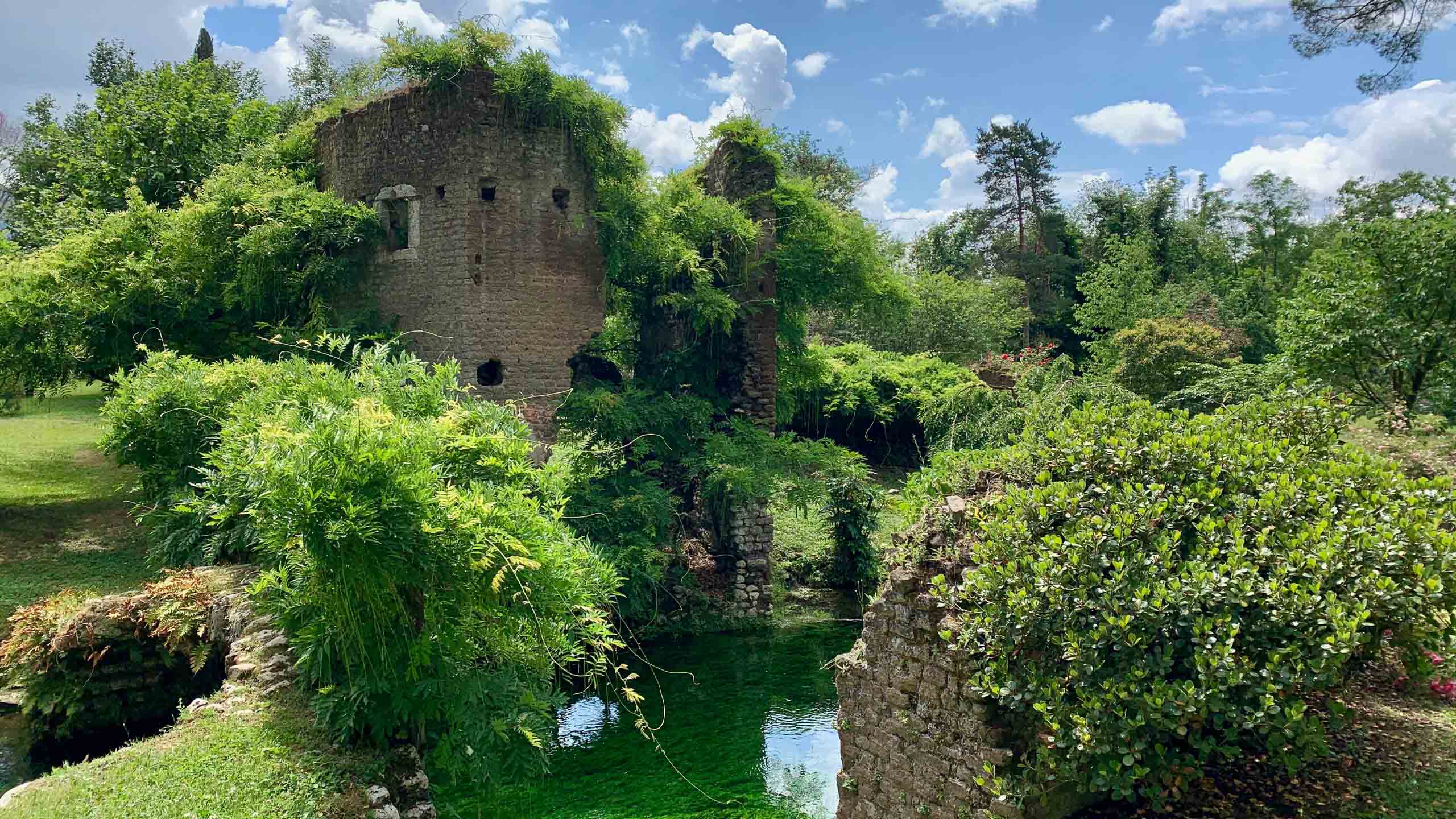 A Sensory Experience
The garden houses an incredible variety of plants, including magnolias, prunus, climbing roses, and a rock garden, also known as "collar". The variety of flora creates a unique environment, where every visit reserves surprises and discoveries.
Walking in the Garden of Ninfa is a complete sensory experience. Visitors can immerse themselves in an environment where history intertwines with nature, creating a unique and unforgettable atmosphere.
Less than an hour's drive from Rome, Giardino di Ninfa is a perfect destination for a day out. It is an opportunity to get away from the daily routine and immerse yourself in a world of beauty, history and nature. The Garden of Ninfa is not just a garden, but a place where time seems to stop, where nature and history come together in perfect harmony. It is an unmissable destination for those looking for a unique experience around Rome.
Do you want to stay in Rome?
For this location we recommend the apartments Rome with View in Rome, ideal for an unforgettable stay in the Capital.
Send us a request!