Rome in the dish: The authentic tastes of Roman cuisine with local products
Rome is universally recognized as the largest and most captivating open-air museum in the world. Indeed, there are numerous monuments and points of interest capable of attracting millions of tourists from every corner of the globe each year, creating an authentic migratory flow that allows enjoying the multiple extraordinary attractions it offers. The Imperial Fora, an authentic testament to the grandeur of the centuries when Rome ruled as a vast Empire, and Piazza Venezia, with the imposing Altar of the Fatherland that witnessed crucial events in Italian and European history in the first half of the 20th century, are just two examples of what can be admired.
If you're considering the idea of spending a few days immersed in the wonders of the Eternal City, keep in mind that Rome is much more than just history, art, and culture: it also represents a rich food and wine tradition. Roman cuisine, in fact, enjoys worldwide fame thanks to its unique flavor and authenticity, achieved through the use of high-quality ingredients cultivated with passion and dedication in the same territory, in perfect harmony with the farm-to-table approach.

Enjoying a breakfast in the heart of the Imperial Fora
We invite you to envision a captivating tour through the magnificent Imperial Fora, enriched by a lavish breakfast or a delightful snack featuring traditional Roman sweets, including the famous "maritozzi". This delicacy is crafted from simple yet authentic ingredients, such as leavened bread dough, oil, sultanas, pine nuts, salt, and sugar. Depending on your preferences, maritozzi can become irresistible when filled with cream, pastry cream, or chocolate.
Another sweet emblem of Roman tradition, suitable for both a nourishing breakfast and a worthy meal finale, is the Roman-style English trifle. This refined dessert is created with classic sponge cake soaked in rum and alchermes, eggs, sugar, flour, a touch of milk, and candied fruit.
To rejuvenate during your afternoons or evenings spent exploring the beauties of the capital city, don't miss out on savoring "fave dolci" – cookies reminiscent of almond paste. They're made with almond flour, cane sugar, white flour, eggs, lemon zest, cinnamon, and room-temperature butter. The array of Roman sweets is inexhaustible: let yourself be tempted by "pangiallo romano", "pizza sbattuta romana", chocolate-filled "saccottini", "cassola", and numerous variations of tarts, satisfying every palate with authentic sweet pleasures.

A delightful experience, both for lunch and dinner.
Rome not only offers you a diverse range of artworks but also a wide selection of culinary delights. In fact, the Eternal City is globally renowned for its exceptional dishes crafted with authentic ingredients sourced from an extraordinary region, closely following the philosophy of the farm-to-table approach. Among the most cherished delicacies by travelers and tourists, the renowned Roman-style "saltimbocca" stands out – a second course made with veal, flavored with prosciutto, and enriched with black pepper, butter, sage, and exquisite white wine.
Equally delectable and renowned is the Roman-style tripe dish, which maintains its authenticity through the use of ingredients like tripe, guanciale, premium Roman pecorino cheese, and a variety of seasonal vegetables including celery, carrots, white onions, and tomatoes. It's combined with aromas and seasonings such as extra virgin olive oil, mint, salt, and pepper, all harmonized with an essential touch of white wine.
For those seeking a flavorful first course to recharge during their exploration of the city's wonders, "spaghetti cacio e pepe" represents an ideal choice. Originating from the vast Roman countryside, this simple recipe has become a beloved and appreciated delicacy. It involves creating a base from Roman pecorino cheese, Tuscan pecorino cheese, cornstarch, and milk. To this, spaghetti and a generous amount of black pepper are added, resulting in a dish adorned with pecorino cheese, extra virgin olive oil, basil, and more pepper.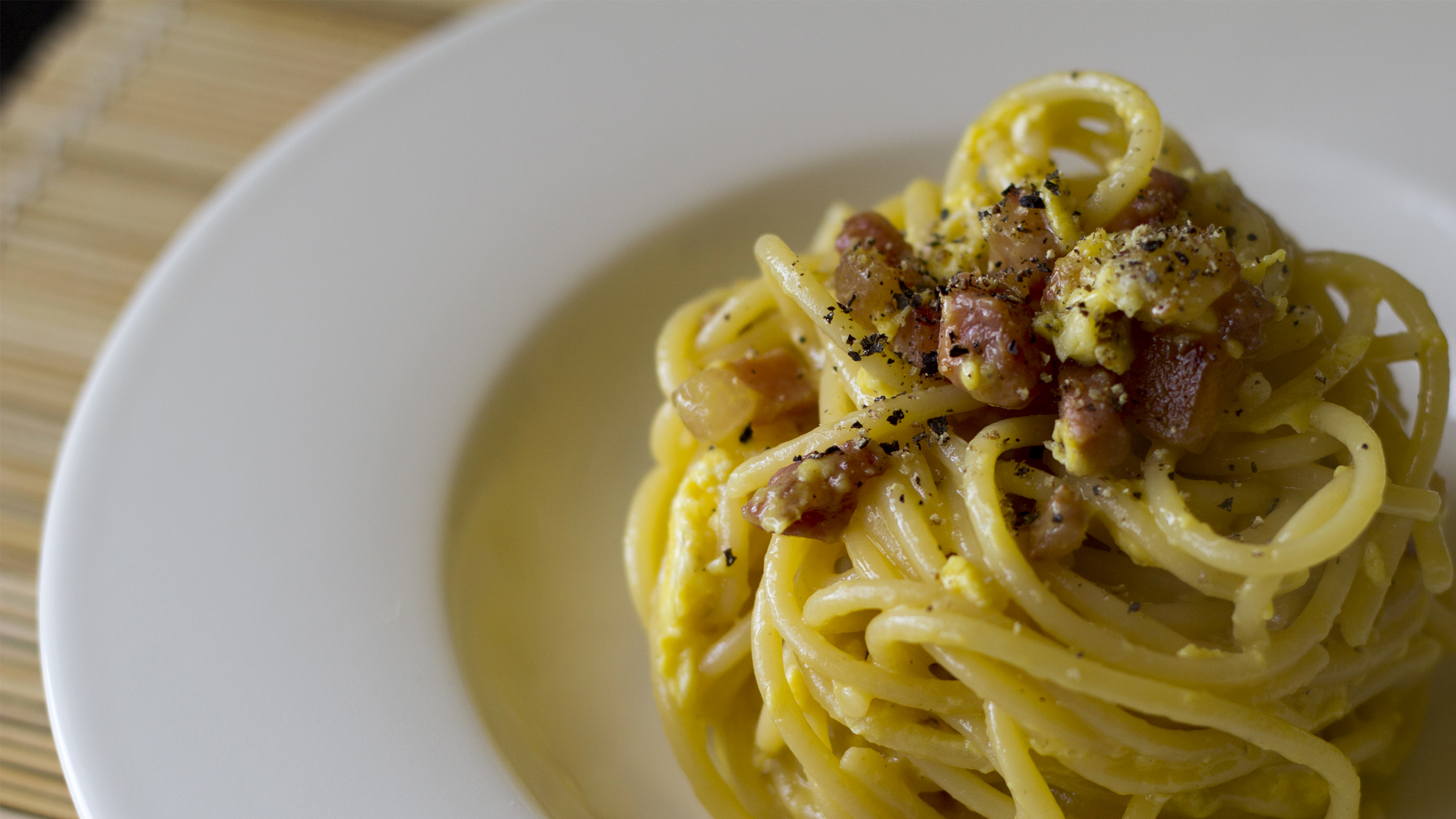 Flawless fusion of artistic expression and culinary delights
If you find yourself in Rome for a vacation or work-related reasons, you truly can't immerse yourself in the traditions and authenticity of Roman cuisine without savoring an exquisite dish of carbonara spaghetti. This dish exceptionally embodies Roman culinary culture and, according to tradition, was created in a modest tavern in 1944 by a chef who, in order to satisfy some hungry American soldiers, mixed seemingly unrelated ingredients, resulting in an extraordinary outcome.
The traditional recipe naturally includes spaghetti, guanciale, egg yolks, salt, black pepper, and the essential Roman pecorino cheese. Another dish that utilizes locally sourced simple ingredients, providing a tasting experience of high-quality components, is "coda alla vaccinara". This preparation, as tradition has it, originated in a neighborhood populated by butchers known as "Vaccinari", who specialized in beef processing. The recipe involves the use of oxtail, carrots, extra virgin olive oil, celery, parsley, cloves, lard, or alternatively guanciale, onion, garlic, white wine, peeled tomatoes, salt, and pepper.
One way to savor the flavors of Roman cuisine at zero kilometers and simultaneously benefit from a strategic location allowing easy access to extraordinary attractions like the Imperial Fora, Piazza Venezia, and the Victor Emmanuel Monument, is to stay at the "Rome with view" apartments. Located a short distance from the Imperial Fora and Piazza Venezia, these apartments offer the opportunity to enjoy a high-level culinary experience. Your stay can be enriched by traditional Roman dishes, thanks to the proximity to high-quality restaurants and the chance to explore the unique flavors of local cuisine.
Do you want to stay in Rome?
For this location we recommend the apartments Rome with View in Rome, ideal for an unforgettable stay in the Capital.
Send us a request!